The Future of Talents Round Table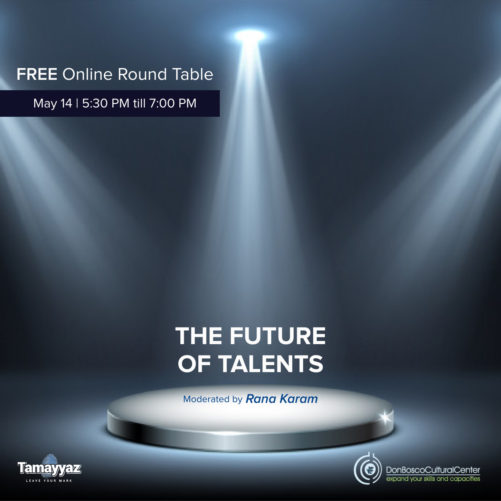 Summary
Companies and individuals should identify the skills gaps and to engage in a "re-skill" or "up-skill" process to be able to adapt to change. This week, we are collaborating with Don Bosco Cultural Center to discuss the newly needed talents in the Post COVID 19 era. During this round table we will navigate through the skills and talents needed and the ways to develop them.
Rana Falah Karam
HR Business Partner, SHRM – SCP
Certified Internal Auditor
An energetic and enthusiastic HR consultant & facilitator known for her professionalism and motivation. Rana has an extensive background in Human Resources including performance management, 360-degree feedback, recruitment, and policies & procedures; she is passionate about helping organizations hire and retain the best talent to drive business success.
Prior to joining Tamayyaz, Rana restructured and re-engineered the HR department of a multinational organization and handled over 20 HR projects in Kuwait, Dubai, Egypt, Oman, and Jordan with the goal of helping the organization allocate human resource talents and create working environments that support their ability to achieve desired business results. For that, she was honoured an award for the "Best Department".
Rana graduated from the American University of Beirut (AUB), with a Diploma in Human Resources Management. She got certified as a Senior Professional from the Society of Human Resources Management. She is also a Certified Internal Auditor – ISO 9001:2008; she actively guides organizations in aligning their current processes to International Standards by identifying process-related strengths and weaknesses, verifying the proper implementation of provisions, evaluating their effectiveness and initiating improvement actions.
Rana joined Tamayyaz in 2015 as a Research & Development Consultant with a focus on HR. She has since then been recognized for her meticulousness and consistency in delivering high quality services. Her result-oriented focus and ability to build rapport across all levels in organizations have made her succeed in developing HR frameworks and coaching the developmental and restructuring process of the HR Department in several organizations. She has also actively participated in the facilitation of the "On the Job HR Implementation", "Management Development Program", "Recruitment & Interviewing Process Implementation", "Writing Effective Policies & Procedures" Workshops.
Her loyalty, trustworthiness and creativity bring great energy to her work.