Rewire Your Brain workshop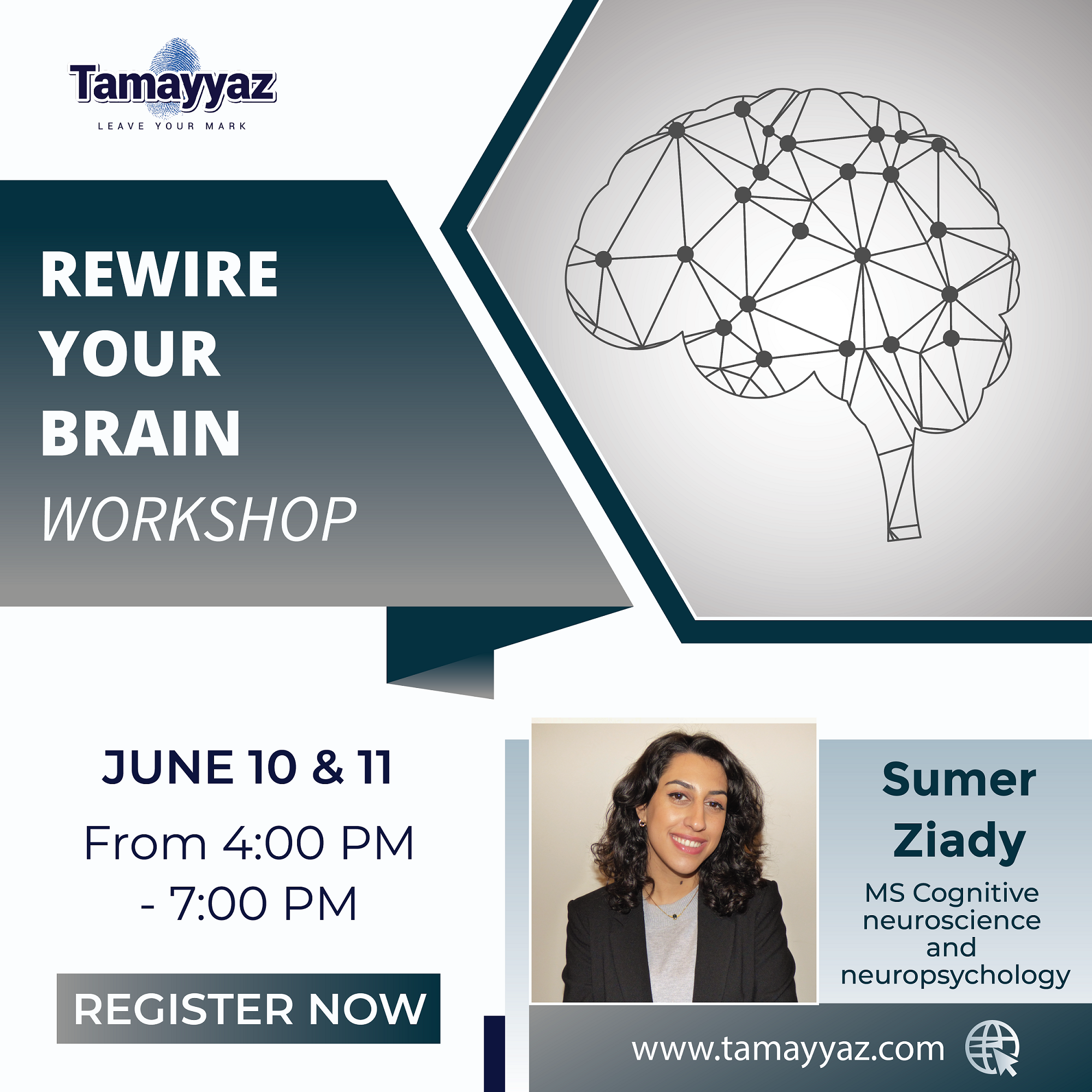 Summary
Taking care of our wellbeing has a reputation of being difficult, as it requires discipline and dedication. Something that is embedded in every human being's brain is the ability to question our current reality and wonder how we can improve our general sense of wellbeing. In this workshop, you will learn about the general concept of happiness, what may hinder our progress, and the different techniques and skills that you can use and focus on in your daily life to improve your wellbeing
Learning Outcome
By the end of this workshop, participants will be able to:
Learn about the science behind rewiring your brain
Identify the cognitive biases that hinder our ability to achieve Happiness
Learn how to identify challenges that affect our wellbeing
Learn the techniques that can help counteract these obstacles
Learn how to monitor your progress
Skills for self-reflection
Meditation
Topics Covered
The psychology and neuroscience of happiness:
Journaling methods that can help: a.
Finding purpose, concept of IKIGAI.
How to set goals.
Learn basic meditation techniques.
Facilitated by:
Sumer Ziady
Cognitive Neuroscientist & Neuropsychologist | Psychology Instructor
Sumer Ziady is a woman driven by curiosity. In 2017 Sumer graduated with a bachelor's degree in Psychology and a minor in Fine Arts from the American University of Beirut (AUB). She was an active student, being an essential member of the Psychology Student Society, President of the Martial Arts club, part of the Woman's Rugby League varsity team, an art teacher, a tutor, and a Field Officer with the NGO embrace. She was also a research assistant for a few psychology related projects.
Recently, Sumer graduated with high distinction in February 2020 from Birkbeck University of London with a Master of Science in Cognitive Neuroscience and Neuropsychology. During her master's degree she was a research assistant at the Center for Brain and Cognitive Development in London. She was also voted as Student Representative for the MSc in Cognitive Neuroscience and Neuropsychology, being the mediator between students and faculty at the university. She is very passionate about learning and working with the most complex machine in the known universe, the brain.
Sumer is fascinated by many topics and is a perpetual learner; aiming to increase her knowledge by consistently processing information through reading as well as research experience. She is mostly interested about how time intertwines with perception, attention, movement, the concept of happiness, cognitive control, addiction, and the psychological and biological benefits of Meditation, as she has been practicing meditation for 7 years now.
Given her interest, she focused her master's dissertation on Explicit and Implicit measures of Time perception in children with Attention Deficit Hyperactivity Disorder (ADHD). Focusing on this topic was very important to her since before she went to pursue her master's degree, she worked for a year in Lebanon at the Evangelical School for boys and girls in Louaize as a Student Support Teacher. Being responsible for behavioral modification, assessment, and learning aid and improvement for children that have neurological, biological disorders such as ADD, ADHD, autism, down syndrome and learning difficulties. Taking this role allowed her to expand her experience and become more aware of the stigma behind people that just have a different brain, not being considered "neurotypical". This drove Sumer to focus on trying to change the narrative and actively work with different populations of people that still struggle to be understood and supported in society.
Sumer chose Psychology as her main path to contribute to understanding the human condition in all its variety and to explore how different cognitive functions contribute to our experienced reality. She is currently an undergraduate Psychology Instructor at the American University of Beirut (AUB).