Leadership and Mental Toughness to Navigate the Crisis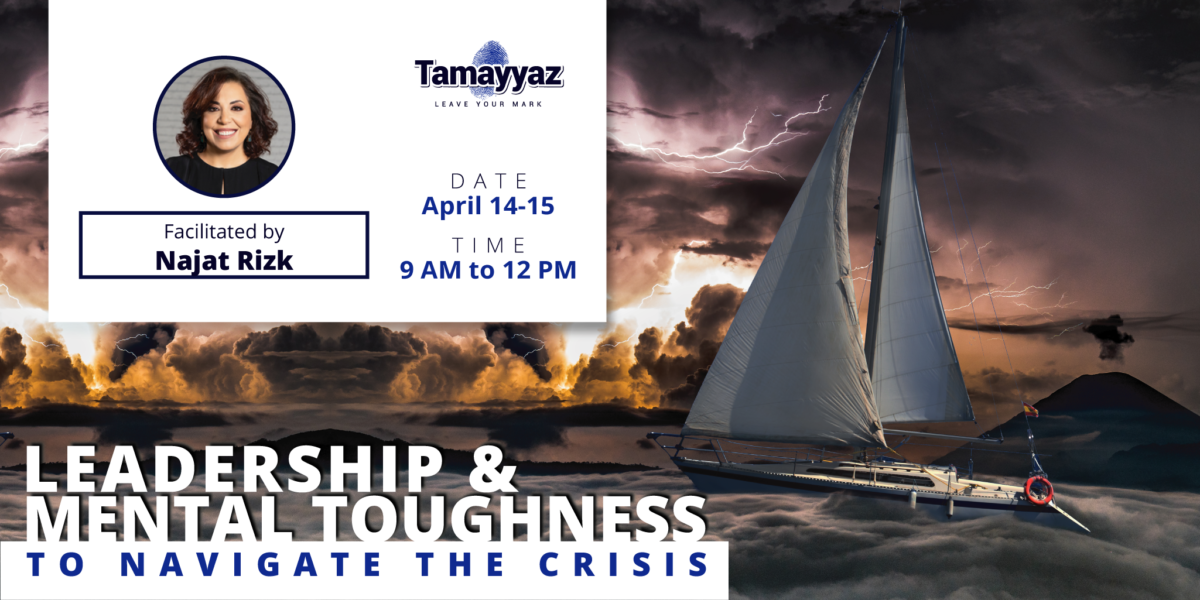 Objectives
Developing Mental Toughness in time of crisis training incorporates the Mental Toughness program, a scientific tool developed in the UK by AQR International. It is a tool to help understand how Entrepreneurs/Leaders/Managers respond to stress, pressure, opportunity and challenge and how this ability can be enhanced in time of crisis.  The training focuses on increasing performance, well-being, agility, positive behaviors and aspirations.
Outlines
• Introduction to Mental Toughness, Models and Good Practices.
• Developing Motivation, Resilience & a Positive Mindset.
• Dealing with Stress and Procrastination.
• Developing Mental Toughness & Personal Action Plans.
Methodology
The training methodology is highly participatory and uses a kaleidoscope of interactive hands-on exercises.
Our approach is to embrace key themes:
ENGAGING – This ranges from making tutorial material interesting to helping to embed learning through a high degree of delegate participation.
ACCESSIBLE – Language, content and style of delivery is simple, jargon free and easy to understand
PRACTICAL – all learning are straightforwardly transferable into the workplace based on live examples.
MEASURABLE – a program is to change the mind-set, well being and performance – in the short term and in the long term. And where important to do so we would be able to either measure it or support the delegate/client to measure it.
The workshop uses practical and interactive tools on how to develop an effective leadership culture as well as how to develop the resilience and positive behaviors of staff – their mental toughness.
Delivery Style
The coach has real world experience as well as a sound grasp of theories and models.
Her approach guarantees knowledge and skills transfer culminating from her first-hand extensive experience as a serial entrepreneur, and pioneer in media and communication.
E-workshops will be highly practical and will require participants to be involved in exercises, case studies, role plays and practice sessions. The goal will be to make people as comfortable as possible to apply whatever they learn.
Moderated by Najat Rizk
NAJAT RIZK is an award winner of Harvard's Michael Porter All World Program for the fastest growing company and highest intensity serial woman entrepreneur for two consecutive years. This year, she received the "Exceptional Women of Excellence" Award at WEF (Women Economic Forum) for her achievements as an entrepreneur in the Middle East.
She is a serial entrepreneur and a pioneer in media and communication in the Middle East. She founded3 companies, Firehorse, one of the leading production companies in the Middle East with award winning documentary series, TRIARC the first stock footage library representing videos of the Middle East. She is a founding partner of BRD (Beyond Reform & Development), a consultancy enterprise specializing in policy, public management and capacity development across the Arab region.
Najat has transformed her unique experience into signature educational programs for youth and women in Lebanon and the region. She has designed training programs, courses and mentorship programs for the American University of Beirut (AUB), Colombia University (US), Saint Joseph University (USJ) and ALBA, as well as for multiple international organizations such as UNDP, European Union, and USAID.
Najat frequently trains and mentors senior public servants in the UAE and Saudi Arabia on communication strategies, leadership and management.
She is an AQR certified coach and a mental toughness trainer.
She is an EMCC certified coach and mentor.