Effective Telephone Skills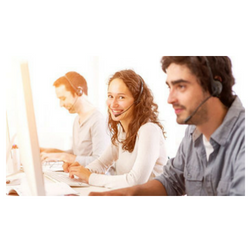 The way professionals handle Telephone Calls demonstrates their ability and willingness to help and support customers and stakeholders. The purpose of this workshop is to provide participants with the Skills needed to Handle Telephone Calls Effectively and reflect a positive image of the Organization. Through activities and role plays, participants will acquire Tips and Best Practices allowing them to leave a lasting impression in the Callers Minds.
-Discounts Available for multiple registrations on Public Workshops Sessions- 
June 27 & 29 – 09:00 AM to 12:00 PM 
Target Audience
Front Liners and Customer Service Representatives wanting to leave a positive and long-lasting impression on customers.
Executive Assistants aspiring to succeed interactions with internal & external customers.
Business Professionals who want to project a positive and professional image.
Learning Outcomes 
Acknowledge the Impace of a Good Telephone Service on the Business
Develop Positive and Professional attitudes and skills in order to handle any Call
Greet Callers Respectfully and Confidently
Practice Tips and Techniques leading to Callers' Satisfaction
Acquire Best Practices in handling challenging calls