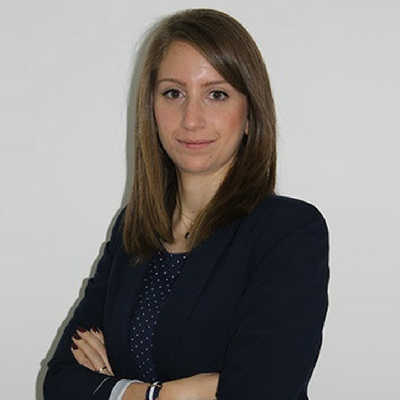 Rita Sebaaly Safar
Senior Human Resources & Talent Development Facilitator
A dynamic professional known for her wide, diversified and in depth experience in behavioural skills. Rita has a wealth of coaching and facilitation of HR & soft skills workshops such as Work-Life balance & Time Management, Planning & Organizing Effective Meetings, Self-Management and Team Management, Creativity and Innovation, Performance Management, Return on Investment for L&D, Compensation and Benefits, External Equity, Competency Based Recruitment and Interviewing, On the Job HR Implementation, Team Building Events, etc. 
As a Learning & Development Expert, Rita is recognized for her exceptional organizational skills, efficient workflow, strong troubleshooting skills, and consistent performance within challenging environments. She has been acting as an L&D Professional in a Lebanese Industrial and Mechanical company over the past 7 years and has conducted more than 100 internal trainings for Technical people in her organization and has recently developed an internal system allowing her organization to measure the Return on Investment on training activities conducted for employees at all levels. Rita's dedication and hard work as a Learning and Development Professional, along with her strong academic background, has allowed her to develop effective strategic thinking, management skills as well as an ability to multi-task.  
Her willingness and thirst for continuous progress played a vital role in her becoming a Learning & Development/ HR Expert and Senior Soft Skills Facilitator with Tamayyaz since 2013. She has since then built a proven track record in coaching, developing supervisors, and facilitating Focus Groups. In line with her innovative and systematic facilitation techniques, and various HR expertise, she has demonstrated the ability to build a positive work environment and has a proven track of having stamped several behavioral changes across employees from all levels within the organization.    
Rita holds a Master degree in HR Management from Saint Joseph University in Lebanon. In 2017, she was assigned by the University as an instructor in Human Resources Management for students pursuing their Masters Degree.   
Besides her professional HR expertise – Rita has been, since youth, developing her creative and artistic outlook. As a Scout, she created and implemented innovative games & activities for youth to transmit specific character building messages using fun approaches. In addition to this, Rita has been learning and practicing professional Photography; she says that "looking at the world through lens is a Passion that allows people to catch special moments and safeguard them in order to be remembered later on". Rita also invests her leisure time in Painting where she uses her brushes to add colors and liveliness to white canvas. She travelled to multiple countries and gained a wide exposure to diversified cultures; that grew her experience in communicating effectively and efficiently with individuals from different backgrounds.  
Her confident, energetic, assertive personality and eagerness to seek perfection make her workshops highly flexible, effective, result oriented, and interactive.