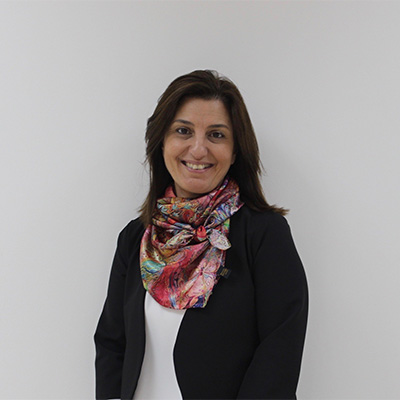 Rita Rizk
Managing Director/Occupational Psychologist
A progressive Leader, a Certified Corporate Director, an experienced HR Business Partner, a specialist in talent development and a professional Corporate Coach, Rita designs and ensure implementation of best-fit solutions for individual and organizations.
As one amongst the first in the MENA region to hold a master's degree in Occupational Psychology, Rita has over 20 years of experience in Human Resources Management and Behavioral Management.
As the HR Business Partner of Chevron Al-Khaleej, Rita successfully implemented innovative Leadership Programs and guided team members to align with the change process; the shift from Chevron Al-Khaleej to Chevron Inc. transformed the company's structure and culture to embrace modern organizational dynamics, work ethics, and best practices.
Rita conceptualized Tamayyaz in 2009 and materialized her vision through its activities and scope of work. As Managing Director, she leads the Learning & Development, HR Consultancy and Corporate Governance divisions. Along with her team of specialists, she ensures that participants, individuals, and organizations continuously achieve sustainable results. Her expertise has been extended to several industries, including but not limited to Banking, Insurance, Education, Energy & Oil, FMCG, Construction, and Consulting.
Rita's numerous certification, Certified Corporate Director from IFC, Certified Psychometric Assessor from the British Psychology Society, Certified European test user in Work and Organizational Assessment from EFPA, Certified Myers-Briggs (MBTI) coach and practitioner, Certified in competences for facilitation & talent development from DDI (USA), Certified 360 Degrees (UK) coach and a certified Train the Trainer from 360 (USA), allows her to help people and organisations reach their full potential by generating self-awareness and providing them with the necessary tools that foster growth.
Rita has extensive experience in the design and successful implementation of HR frameworks and Leadership Programs across different cultures throughout Europe, Africa, and the Middle East. In parallel, she has designed programs for women empowerment, such as Work-Life Balance for Women, and The Women Leadership Traits; she also developed a comprehensive program on Emotional Intelligence, in which she has helped many participants in reaching their personal and professional objectives; she also designed and customized over 100 Leadership programs for organizations. Rita believes that the core elements of these workshops is to drive people towards change while equipping them with the necessary tools and techniques.
Furthermore, Rita generated and developed one of the most influential and vibrant programs for young adults, the YAP program; it is actively guiding youth towards building a brighter future while assessing their wants and needs.