Professional Business Writing workshop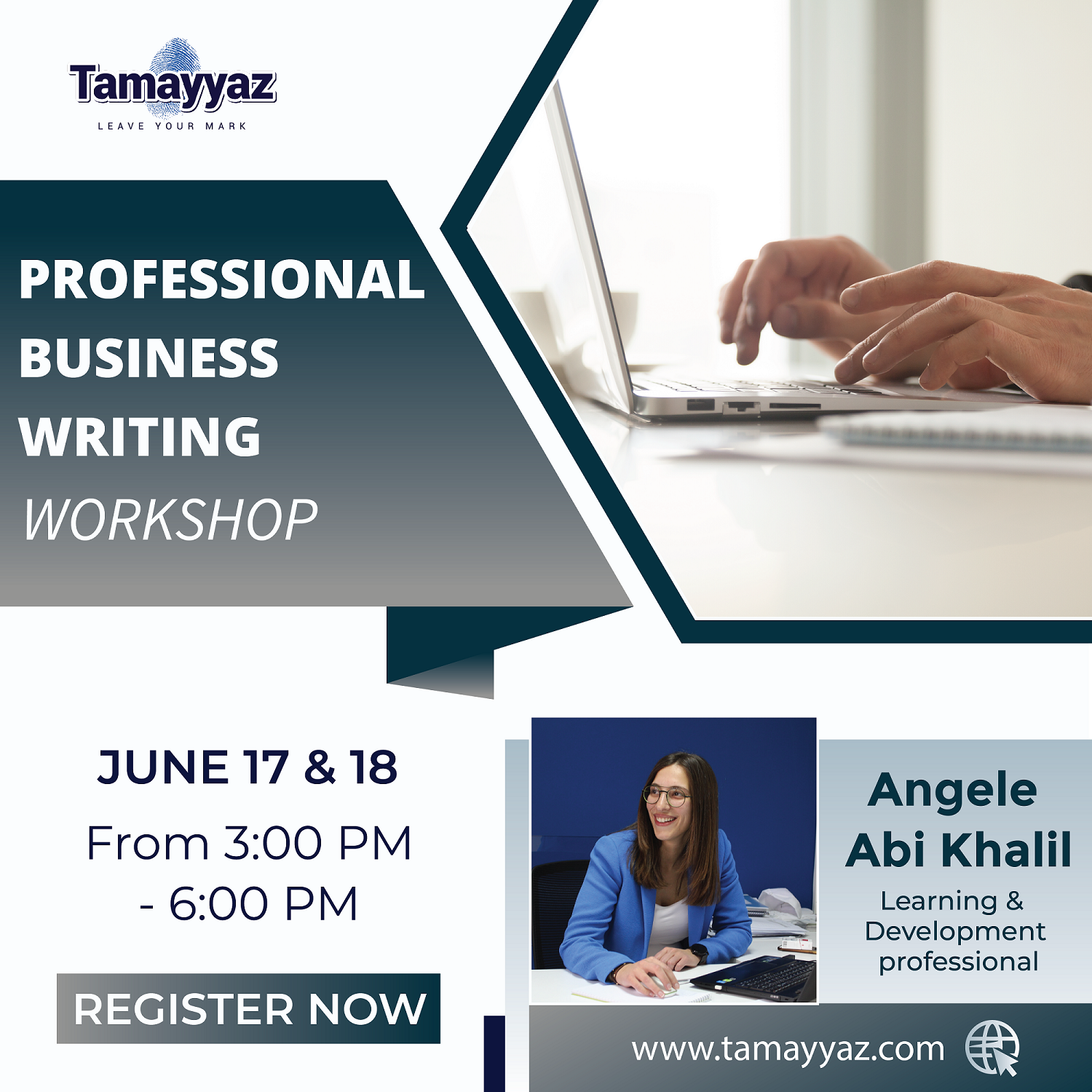 Summary
The Objective of this workshop is to build a base for an effective written communication in Business, to equip participants with the needed tools to enhance their written business communication in English and efficiently convey messages. Through individual and team exercises and applications, participants will be able to develop professional and effective written messages while avoiding some of the most common mistakes in Business Writing.
Learning Outcome
By the end of this workshop, participants will be able to:
Express oneself clearly and concisely while discovering and avoiding common mistakes.
Identify the components of an Email, develop the body of the message, and select the "best-fit" words to transpose a professional business message.
Acknowledge the impact of negative words in written communication and acquire tips to replace them with more positive ones.
Leave a positive impression even when delivering bad news to recipients.

Identify and Practice Techniques of written business communication.
Topics Covered
Written Communication – Tips and Best Practices
Identifying the Purpose of written messages
Sharpening own Writing Style: Formal vs. Informal
Choosing the Right Words
Developing Effective Sentences
Effective Paragraphs Structures
Professional E-mails Structure
Email Message Headers – Etiquette
Email Message Body
Facilitated by:
Angele G. Abi Khalil (Associate CIPD)
A passionate and energetic Learning & Development professional who excels at designing and delivering tailor-made solutions for clients across the MENA Region. Her pleasant approach as well as her continuous pursuit towards structuring and linking information has helped her in developing and executing sustainable programs for clients and participants at various levels in organizations and across varied business industries.
In 2010, Angele joined the Learning & Development field and has since then guided the development of solutions starting with the need's assessment phase, into the material design and customization, going through solution delivery, and successful follow through. She also managed for 7 years a team of Learning & Development Consultants and Facilitators for a Training Company in both Lebanon and the UAE where she guided her team throughout workshops and solutions customization and delivery.
For the past 11 years, Angele acknowledged the impact of behaviors on Organizational Performance and demonstrated a passion for Human Capital's growth. She led the development of more than 300 customized training material and activities, 120 individual coaching sessions, and around 15 multi-source (360 degree) feedback projects for organizations in the MENA region.
Thanks to her calmness and friendly approach, Angele has been passionately and successfully communicating her knowledge – in both face to face and virtual setups – to complex and diverse groups. She managed to receive an average of 4.69/5 based on the feedback provided on trainings/ workshops/coaching sessions provided.
Scope of work:
Talent Development & Soft Skills Workshops including Communication Skills, Presentation Skills, Public Speaking, Building Assertiveness, and others.
Management Development Programs covering Delegation Skills, Coaching Skills, Giving Feedback, Goal Setting, etc.
Customer Service Programs such as Handling Telephone Interactions, Professional Business Writing, Workplace Etiquette & Conduct as well as Office Management.
360 Degree Feedback Projects comprising Behavioral Competency Framework Development, 360 Degree Feedback and Culture Awareness Sessions, Online Implementation as well as Individual 360 Degree Feedback Coaching Sessions.
Executive Coaching Sessions that guide the development of Leaders and Executives.
Team Building Events that combine fun and competition with specific learning outcomes that are directly linked to human behavior in the workplace.
Education and certifications:
Diploma in Learning & Development (Level 5) – CIPD, Online Diploma
Train the Trainer Certification – Tamayyaz, Beirut-Lebanon
MTa Certified Facilitator – MTa Learning, Dubai-UAE
Bachelor's Degree in business management – Lebanese University, Beirut-Lebanon
Certified Internal Auditor, ISO 9001: 2015 – TUV Nord, Beirut-Lebanon